A few weeks ago I applied for a loan at Lending Club. It was a Monday morning, and I was still in my pajamas. After having some cereal and coffee for breakfast, I went to the living room and turned on my computer.
I knew Lending Club had low rates, but I wanted to see what they would give me. I loaded their site up and checked my rate. The rate was good, so I applied. After filling out some forms and verifying my identity, I got an email from them saying the loan was approved.
Six business days later, nearly $2,000 in cash was deposited into my bank account.
Loans up to $35,000 via Lending Club
How are the rates at Lending Club so low? Well, unlike a bank, Lending Club does not have local branches, so they have no vaults or tellers to pay. Since they run completely online, they can pass on the savings to us in the form of better interest rates. Most people get a rate 5% lower than their credit cards, which can mean thousands of dollars in savings. Also, the rates are fixed. They will never go up, even after a late payment.
4 Steps for a Loan through Lending Club
Getting an unsecured loan at Lending Club turns out to be really easy. There are just four things to do:
Step 1. Check your rate
Go to the Lending Club website and check the interest rate they offer you for a loan (some people use MyInstantOffer.com). This requires you to give them a little bit of information like your name, address, and date of birth.
One minute after clicking the big green Get Your Rate button, you will be approved (or denied) for your loan. As you can see below, I was approved for a loan with a 9% interest rate, which is an APR of 12% (APR = interest rate + fees).
If you like the loan amount and interest rate they offer you, click the big green Get Loan button. If you want to increase or decrease your loan, select the amount you prefer and click the Get this loan instead button.
Step 2. Provide your personal details
Here you give Lending Club the information they need to verify your identity, including giving them your social security number. You can feel safe about doing this since Lending Club secures this page with 128-bit encryption.
After clicking Next you will arrive at the Disclosure Statement.
Agreeing to these terms is like signing your name to the loan application. Once done, your application is officially complete.
Step 3. Wait for your loan to get funded
With all that out of the way, the loan opens for funding. Lending Club loans are a kind of loan called peer to peer loans. This means Lending Club does not actually fund your loan themselves. Instead, they have lots of investors around the country combine their money to fund your loan. Note: currently every single loan is getting 100% funded at Lending Club, so don't worry too much about this step.
Below is my B-grade loan on the Lending Club platform. At the time of this picture it was 60% funded by 11 different investors:
Within an hour of my loan being open to investors, it reached 100% funding from 28 different investors from states including Texas, New York, and Virginia:
Step 4. Verify your information
To finalize the process, you need to verify your identity with Lending Club. They will probably give you three steps to complete: submitting extra documents, confirming your email, and verifying your bank account.
Submitting documents: This is probably the most complicated step. Lending Club may ask you to provide old tax returns or paystubs. Every application is different. If you have digital versions of your files, you can submit them online. If you only have physical copies, you will need to make them digital with a scanner (or fax them). For my loan, I was asked to submit three months of bank statements. My bank provides these online in PDF files, so no scanning or faxing was needed. A few clicks and the files were uploaded.
Confirming your email: just click the link in the email they send you. Simple.
Verifying your bank: Lending Club makes a small deposit in your bank account (less than $1). Once they make this deposit, you log into their website and type this number in, verifying the bank is yours. For my loan, the trial deposit was there on Tuesday, the morning after I applied.
Credit history: At this point in the process, Lending Club may run a hard inquiry on your credit history (also called a hard credit pull). Hard inquiries will temporarily lower your credit score, but only for a few months. They remain on your report for two years. Remember that getting a good rate on a loan (like a mortgage or car loan) is more difficult if you have a large number of recent inquiries. A decent rule of thumb is to wait 6 months between every loan you apply for.
My $2,000 Loan Was Approved in 5 Days
Just five days after applying and verifying my identity, Lending Club sent me an email saying my 3-year loan was approved: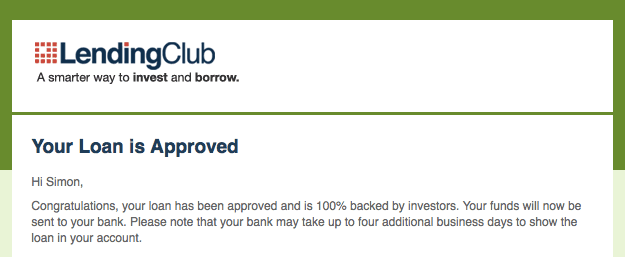 My application process:
Dec. 1, Monday: Checked my rate at 10am and accepted their offer. Loan was 100% funded that afternoon. I submitted my documents, verified my email, and waited for bank deposit.
Dec. 2, Tuesday: Verified my bank account (deposit was 38 cents).
Dec. 5, Friday: Lending Club moved from 'Under Review' to Issued.
Dec. 8, Monday: $1,920 cash was deposited in my bank account in Seattle
Why did Lending Club give me just $1,920? Why not the full $2,000?
Lending Club did not give me the full loan amount. They took $80 of my loan (4%) as a fee ($2,000 X 0.04 = $80). This is how Lending Club makes money, and this fee is called an origination fee. It is different for every borrower. If you have excellent credit you will pay just 1% in fees. Most borrowers will pay 4-5% in fees like I did:
It is important to include this fee in your loan request if you need to. For example, if you need exactly $20,000 and expect to pay 5% in fees, you would probably want to ask for $21,052 since $1,052 (5%) in fees would leave you with the full $20,000.
Paying Back the Loan is Easy
A month after your loan is approved, you will begin making payments. These payments will automatically be taken from the bank account you gave Lending Club when you applied. They will happen once per month until the loan is paid off.
Make extra payments: a very good idea. Any extra payments you make mean less paid interest overall, so try to do them. Lending Club allows both one-time and permanent extra payments. You can make these by calling them: 1-888-596-3157.
Pay back the loan early (no fee): also a great option, and Lending Club does not charge prepayment fees. Pay in full at any time.
Is Lending Club Safe? Is it Legit? Yes.
Many people wonder if this is a scam. After all, most have never heard of Lending Club before. But I can personally say that Lending Club is a very legitimate way to get a loan. Lots of positive press in major media prove that fact:
Secondly, applying for the loan is very safe. Every page of the application is protected with 128-bit SSL encryption, so you can feel secure knowing your information will remain private and confidential.
Review Verdict: A Great Loan at a Low Rate
If you need cash or simply want to pay back credit cards, Lending Club is one of the best options around.
Pros:
Lowest rates nationwide
Easy and quick application
Fast cash – I got a loan in six business days
No prepayment penalty, pay it off for free at any time
Cons:
Maximum loan is only $35,000
Origination fee should be more clearly stated
Final Word
For a quick low-rate loan, Lending Club is one of the best options nationwide. You can easily find your rate and apply at no risk of it affecting your credit score.
Check your rate with Lending Club today, and get started toward your loan.