There comes a time in the arc of every investment where things finalize. The money is withdrawn, the account closes, and the funds are placed where they are better put to use.
Peer to peer lending is no different. And while the process of closing a Lending Club or Prosper investor account is certainly more involved than closing a bank account, it's quite manageable in the general scheme of things. In short, every investor has to do three basic actions:
Get back any outstanding principal
Transfer the cash into a connected bank account
Call Lending Club or Prosper and request the account be closed
Let's look at these three steps in greater detail. To help illustrate this process, I will be using pictures from a Lending Club account that I closed this week. This taxable account had been liquidated during the Liquidity Project, so it gave me a great opportunity to explore the closing process in full.
Wait or Liquidate? How to Get Back Outstanding Principal
Definitely the most complicated step of the three, there are two approaches you can take to divest yourself from Lending Club and Prosper loans.
Easiest method: Wait for loans to get paid back. This means not reinvesting loan payments into additional notes, but instead logging in once in a while to transfer available cash to your connected bank account. This process is somewhat slow since most loans take three years to be paid back, and many take five years. However, it's the simplest and easiest of the two options. In 36 to 60 months, you will no longer be a peer to peer investor.
Harder method: Liquidate your account on the Foliofn secondary market. While more complicated, doing this may allow you to get the majority of your invested cash back in just a week or two. Additionally, some investors (including myself) have actually gone on to even earn a small premium while liquidating their accounts. However, doing this needs you to price your loans in a way that sells them, and requires a bit of time.
Setting correct price-points on the secondary market is tricky business. Too low and you have lost potential earnings. Too high and the note may float for weeks with no buyers. To boot, any experience that investors like myself have had may no longer apply since the secondary economy at Lending Club and Prosper changes so quickly. The entire environment is risky and highly speculative (see this disclaimer from Lending Club). While many investors have made a great return there (read: How to Invest through Foliofn), others have lost money. That said, I think there is a generalized understanding that most healthy notes sell close to par, perhaps with a small markup above or below their current value.
A proper markup is typically determined by a note's demand. For instance, buyers are usually looking to buy notes with:
Lower grades (higher interest rates)
Consistent repayment histories (fewer missed payments)
Reasonable values ($5000 notes may be difficult to sell)
Better FICO scores
Basically, the correct initial markup is highly variable, so pricing each note one-by-one is almost impossible to do accurately. A better approach for liquidating an account typically involves an investor casting a wide initial markup and lowering it until every note is gone. This may mean starting more generously (perhaps a 5% markup overall) and lowering this markup (perhaps by 0.25%, 0.5%, or 1%) every few days/hours until the notes are all sold. Some notes may even require sale below par, below a 0% markup, selling them at an overall discount.
Furthermore, investors like myself have sold notes with particularly high interest rates (like E, F, & G grade notes on Lending Club) with a 9 or 10% markup (see my Liquidity Project).  If your overall investment is on the riskier side, you may want to begin above a 5% markup.
Instead of telling you the correct starting markup for your account, which does not exist since every investor's portfolio is different, I will outline how to sell all your notes once you have identified where you want begin.
8 Steps to Liquidating Your Investor Account
This example will use the Lending Club website, which is currently a lot easier to mass-reprice than Prosper's. However, the process is generally the same for both.
Step 1. On the main account screen, click on the Trading Account link to enter the Foliofn secondary market.
Step 2. In the main navigation, click the link for Sell Notes.
Step 3. In the Sell Notes area, click the dropdown box on the far right and select All to have all of your notes appear on the screen. Be aware that if your account has hundreds or thousands of notes, your computer may lag a bit as it waits for all of them to load.
Step 4. Check the box on the top left to select all these notes and click the button for Sell Notes.
Step 5. On the pricing screen, click the plus sign (+) until you arrive at the ideal initial markup for your entire account. Again, this will be different for different people based on (1) the loan grades within their portfolio and (2) how quickly they want their notes sold.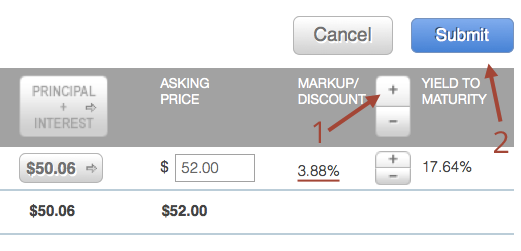 Once you have set the markup/discount, click the Submit button. Congrats, all of your notes are now (individually) for sale.
Step 6. Log back in intermittently, decreasing the markup until every loan is sold. You can do this by going into Foliofn and clicking on the My Account link.
Step 7. Check the box on the upper left to select all your notes that are currently for sale and click the blue Reprice button.
Step 8. Lower the markup by clicking the minus sign (-). Click Submit to reprice your notes.
That's basically it. Just reprice your entire account until every note is gone. The more markup points you choose to use and the more time you give each point, the higher overall markup you may earn. Inversely, the quicker you push it, the less you will generally garner overall. Yes indeed, time is money.
Note #1: Notes with processing payments
This approach has a fairly significant wrinkle. If a note has a payment that is processing, it cannot be sold on the secondary market. So in step 4 above, when you attempt to select all your notes for sale, these notes will not have a box you can check. Instead they look like this (and have the attached pop-up description).
The reason Lending Club restricts these sales is a good one (some sellers had found a loophole to fool buyers into buying junk notes). However, it adds a small complication to the liquidation of a p2p lending account. Basically: any time you reprice your loans at a lower markup (step 6), you may also want to go back to the Sell Notes screen and repost any notes that previously were unable to be sold due to processing payments.
Note #2: Steep discounts may be required for late notes
This entire post is mostly dedicated to helping you sell of notes with a status of Current. However, notes that have gone late will have a slightly different process, mainly in the starting point for the discount you use. To help, here is a chart from Lending Club's Loan Details section of their Statistics area:
What these pie charts show is the chance a loan will regain its payments and become Current again (for loans over 9 months old) based on the degree of its lateness. Doubly, these percentages can also act as a starting point for discounting late notes. IE: In Grace Period notes typically have a 23% chance of regaining payments and becoming current again. So if you are trying to sell a note that is In Grace Period, you may want to start the discount at 20% and move downward from there. Of course, your result may vary.
As some sort of baseline for all this, explore the Liquidity Project results. I slowly discounted a late note in this project as well and, surprise surprise, it eventually sold at the 49% discount that Lending Club references above. I do not suggest you go crazy in your markup points like I did in that project, but it will hopefully give you a generalized starting place for understanding the Foliofn economy.
Transfer Out All Remaining Funds & Close Account
The last few steps are easy. Once your entire account has been converted to cash, move the funds into a connected bank account so that it looks something like the divested account below.
Finally, contact Lending Club or Prosper account services and have them close your account. To do this, I called Lending Club's toll-free number for Investor Services: (888) 596-3159. Prosper's investor line is (877) 646-5922. A few short minutes on the phone with an account manager and your account will close. Afterward, will get an email like this:
[image credit: Charleston's TheDigital "Closed" CC-BY 2.0]