All of us have had times in our lives when we did not have enough money. Personally speaking, I had to borrow tens of thousands of dollars to attend college because I did not have that much cash at age eighteen. Perhaps you have fallen behind on your rent or (hope against hope) you are unable to afford food this month. Being low on cash happens to the best of us.
Loans up to $35,000 via Lending Club
When money gets tight, the easiest thing to do is to get a payday loan (also called a cash advance loan). After all, they advertise their shops with HUGE signs lit up in bright neon lights. A payday lending business is like its own little Las Vegas. And just like the casinos, it attracts people who do not understand the numbers. Like casinos, payday lending takes advantage of people's ignorance.
You do not have to be another sheep! In today's post, we will look at how horrible payday lending is. We will also show how a Lending Club loan is a much better option for those who need money quickly.
Payday & Cash Advance Loans are Terrible: Five Reasons
#1 – Interest Rates Are Terrible: 200-600% Per Year
The average interest rate on a payday loan is between 200-600%. Yes, you read that right.
Six. Hundred. Percent.
A recent article by Business Insider (Payday Lenders Screw Their Customers) looked at every state in the US and calculated the average interest rate on their payday loans. Minnesota was the lowest with an average of 197% – Wisconsin the highest with a rate of 574%.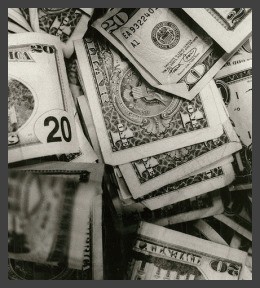 Let's look at what a 500% interest rate means using math. Imagine you take out a payday loan for $500, but when your next payday comes you find you are out of money again, and are unable to pay the loan back. Let's say you finally pay the loan back in twelve months, a year later. At the end of the year, you would owe $2500 – $2000 in interest, all from a loan that was originally just five hundred dollars. That is some crazy interest.
Think you would pay your loan off early? Perhaps you would, but perhaps you would not. For example, an article from 2011 discovered that most borrowers hold onto their payday loan for the majority of the year, eventually having to pay thousands of dollars in fees.
Solution: A peer to peer loan through Lending Club offers great loans with average interest rates of 15%. So let's say you borrow $1000 through a 3-year Lending Club loan (you can always pay it off early). A 3-year $1000 loan would cost you a total of $297.95 in interest and fees, about $99 per year!
Let's review: $2000 in fees per year (payday loan) vs $99 in fees pear year (Lending Club loan). Which sounds better to you?
#2 Payday Loans Simply Make Next Month Even Harder
When you apply for a payday loan, you are asked to write a post-dated check, which means you write next month's date on the check. So if you get a payday loan in January, you would write a check to them with a date for February. When February comes, they will cash this check and collect the fees.
This is bad for three reasons. First, the problem which caused you to need a loan in January may still be there in February, so now you have this problem as well as fees from a payday lender – twice the problems. Second, many borrowers do not have the money in their bank account for this check's amount a month later, so the check bounces and the borrower gets charged more fees they cannot pay. Finally, many borrowers simply pay off their first payday loan with a second (more expensive) payday loan, creating a debt spiral that ends with financial ruin.
Solution: A $1000 payday loan would need to be paid back in full a month later, but a $1000 Lending Club loan would have a payment of just $34 per month for three years. This gives you time and space to breathe while you get your finances figured out.
#3 Payday Lenders Do Not Consider Your Financial Situation
While the people working at payday loan shops might be nice, the system they work in does not consider your financial situation. In a study of payday lenders in the UK, 9 out of 10 borrowers said they were not asked to provide documents proving they could afford the loan. This means thousands of borrowers are getting loans who will never be able to pay them off, resulting in financial ruin.
Solution: Lending Club underwrites every loan they offer. This means they only offer loans to people who pass a complicated credit check, and which results in only 3% of the loans defaulting each year. As a result of underwriting, most Lending Club borrowers are able to pay their loan back on time, resulting in a better healthier borrowing experience.
#4 Payday Lenders Pressure You to Extend Your Loan (Costing More in Fees)
The same study found that payday lenders would pressure the borrowers to extend their loan for additional months, costing more and more fees for each month that goes by. It makes sense. Payday lenders make the most of their profit off the late fees they charge, so encouraging borrowers to be late on their loans makes them lots of money. Remember the example from above where a person who took out a $500 loan eventually paid back $2000 in fees? Looking at this example, it makes sense why payday lenders celebrate late borrowers.
Solution: Getting a loan through Lending Club is better since there is no pressure to change course and pay extra fees. You simply pay 3-4% of the loan each month until it is paid in full. Or you can pay the entire thing off early for no extra charge.
#5 Payday Loans Are Not Available in States like New York & Pennsylvania
Payday loans are so bad that they have been outlawed in 12 states. If you live in one of these states, you cannot get a payday loan, even if you wanted one:
Arkansas
Arizona
Connecticut
Georgia
Kentucky
Maryland
New Jersey
New York
North Carolina
Pennsylvania
Vermont
West Virginia
Solution: all of these states do allow loans through Lending Club – a better option anyways if we think about the reasons outlined above.
Conclusion: Get a Lending Club Loan (and Say 'No' to High-Interest Payday Loans)
It would be better if we never needed to borrow money at all. But for those who need a loan, here are six reasons why Lending Club is the best option:
Lower Interest Rates

: The average Lending Club loan is 15% (and can go as low as 6.7%).
Fixed rates: Rates at Lending Club never go up, even if you miss a payment.
No early payment fee: Pay your loan off early without a penalty.
Available in states where payday loans are illegal: Borrowers in states like New York can still apply for a Lending Club loan.
Borrow up to $35,000: Lending Club offers loans from $1,000-$35,000.
Fast loans: Receive cash in six business days.
For a quick low-rate loan, Lending Club is one of the best options nationwide. You can easily find your rate and apply at no risk of it affecting your credit score.
Check your rate with Lending Club today, and get started toward your loan.